The Malden River is a 2.3 mile long river in Malden, Medford and Everett, Massachusetts.
It is roughly 675 feet wide at its widest point. The Malden River is one of many Mystic River tributaries; others include the Aberjona River, Alewife Brook, Chelsea Creek, Island End River, Malden River, Mill Creek and Spot Pond Brook. It was put underground in the early 20th century.  When Malden City Hall was constructed in the 60s and 70s, more of it was put underground. There are water quality issues that exist; however, it's difficult to get people interested in a river that isn't seen every day.  The Malden River flows into the Mystic river tributary and flows to Rivers Edge Park (a mixed use development) which is also the site of Tufts University boathouse. The site has undergone major transformation.  For many years the river was used a dumping ground. The site developed by John Preotle Jr. now has five acres of parkland and both office and residential components.
The Malden River is a tributary to the Mystic River.  Like the Mystic River the Malden River is an urban river with a long history of industrial uses.  Although it has been neglected for quite some time, many residents and organizations in the watershed are joining forces to improve water quality and recreational opportunities along the river.  In 2012 Malden began the development of the Malden River Routes.  The longest route is 1.9 miles and is marked by large signs with the river route logo. The route begins at Oak Grove and connects points of interest such as parks, historical sites and community institutions.  As with many urban rivers, the Malden River was put into an underground culvert for much of its length.  The route follows the underground path of the Malden River from the Spot Pond Brook until it emerges south of Charles Street and then follows the river.
In addition there are four secondary routes that connect neighborhoods with the main route.  These are the O'Connell Park route, the Edgeworth route, the Bell Rock route and the Northern Strand Community Trail (NSCT.)  These secondary routes are signed with the Malden River Route signs as well.
Enjoy exploring these historic paths of the Malden River, the surrounding neighborhoods and the emergence of the Malden River as it flows into the Mystic River.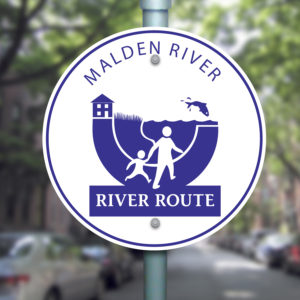 VIDEO: The Malden River – Past, Present and Potential – Part I
VIDEO: The Malden River – Past, Present and Potential – Part II